THE ASS BABOONS OF VENUS
PoopBomb From the Skies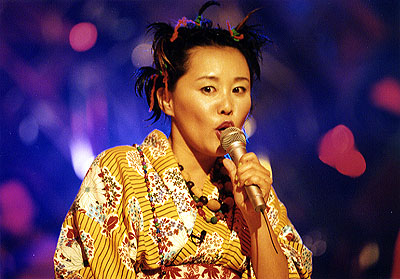 The Ass Baboons of Venus are japanese comedienne Naoko Nozawa and american corn-hole captain Bob Limp. They have been touring around the states as well as making TV appearances in Japan for about ten years. Mr. Quintron first brought them to my attention in 1996 after a west coast tour with the Demolition Doll Rods. "You have to put this band out", he told me, "they are more retarded than you can ever imagine." Like an enema of chicken dung, the Ass Baboons slowly crept back into my life when I was living in Japan. I saw them on a Karaoke TV show where they proceeded to bastardize a popular song by Yamamoto Linda and then wreck the entire set. All communication between the band and the hosts was complicated by Bob's intentional sabotage of butt-jokes and retardation. "These guys are genius," I thought.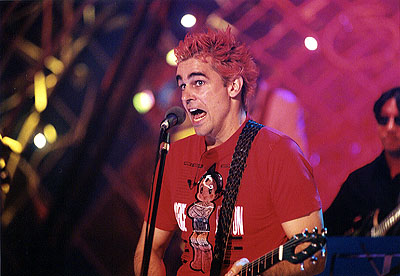 Bob started out as a founding member of the Hot Corn Girls (more butts). He continues to be ass king of California, an anal-emperor of sorts. Nozawa Naoko is famous overseas as being a member of the Yamamoto Kougyo, kind of like a Second City of Japan. Even my mother in law knows her as a member of the Monkeys, a ridiculous singing group where all the members dressed up as monkeys (obviously). The two of them together are like and expectorant on ludes. Like a Quintron with a pound of laxatives.

Now Come "Phuket a la Bum Bum", the newest installment in the ass series. Containing not less than ten songs about butts and bums, "Phuket" is a Thai disaster where all the children poop their pants at once and fling it at their neighbors with glee. BULB is proud to welcome the Ass Baboons to the family and you will be too.

REVIEWS:

"I rate songs on a scale of 1 to 10, 1 being HORRIBLE and 10 being a MASTERPIECE.
Examples of 1's are SINGLES: "MANGO MAN" by Ass Baboons Of Venus (IS THAT REALLY A SONG???)" --KAZU'S JAPANESE MUSIC PAGE

Bemused and surprised, the Ass Baboons of Venus gathered the Beyond award, a write-in category for the group that most completely defies categorization. They deserve it and they know it. Clap your hands. - SF Weekly

P.S. These pictures were blatantly stolen off the LOVELOVE site in Japan. Any complaints, write and I'll take them down...
LINKS

Ass Baboons Photo Page