THE PTERODACTYLS!
PTERODACTYLS INTERVIEW by Rob Dayton!

Pterodactyl Man
DISCOGRAPHY:
The Pterodactyls "Reborn" CD (BLB-047) 11/96
V/A "In Bulb-O-Phonic" CD (BLB-034) 5/97
The Pterodactyls "s/t" Cassette 2/96
The Pterodactyls "s/t" Video (VLB-002) 8/96
PRESS

THE PTERODACTYLS - Reborn CD Bulb From the opening track, "Jean Jacket Kids", this disc is completely rockin-hilarious all the way through. With the timbre of early Bowie and the stream of consciousness of Iggy or Jandek, Pterodactyl Man howls and growls about timeless rock topics like hot pants, 14 year old girls, and rock music. "you're 14, I'm 27, the difference..........14!" The musicians must be students of Motorhead and Slayer, the latter being thanked on liner notes. They totally kick ass! Check out the "Eruption" style guitar solo track called "Octonasalia". A must see in my book should they ever pass through town. Includes the Icky Boyfriends cover "Flying Monkeys". [Pusser] - Cool Beans
NIGHTTIME DISGUISES Who was that masked man? With his trademark shrieks and audience-endangering antics, the Pterodactyl Man returned to wreak havoc on the scene at Zoot's Coffee on Friday, Sept. 5. His band, the Pterodactyls, terrorized local rock events for several months in early '96, but when they played their last show the night before the Kiss reunion, it was the end of an era. Or so we thought. This reunion show got off to a slow start without a microphone, as new keyboardist Xavier stalled for time, solo-style. He proved himself to be something of a Quintron of the digital age as he energetically noodled out an endless medley of unfamiliar themes, from black metal overtures to Future Shock-era Hancockisms, complete with synth hand claps. Then, once a mike was procured, a new five-piece configuration of the Pterodactyls, with replacements for Big Ben and Dactylis, blitzed through about a half dozen old favorites like "Glass Brothers" and "Song in My Head." It was a loud, sloppy mess and it was over way too quickly, but what other Pterodactyls show hasn't been? They may have been out of shape, especially the heftier-but-wingless Pterodactyl Man, but hopefully they'll practice more and become even more "reborn again" and continue to remind Detroit why they're the hardest rocking band in rock. After the Pterodactyls' set, three of them (under the moniker Kangoo) remained on stage and performed a short set of black metal power ballads. It would be great to see an Aces High/ Pterodactyls/ Wild Bunch/ Kangoo battle of the bands on, say, Halloween ... but of course I could never judge it.
- Metro Times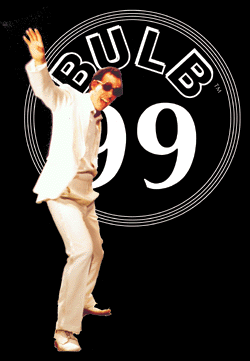 PTERODACTYLS
"Reborn" CD
BLB-047 $10.00
MORE BULB BANDS:
MIKEY WILD!
ANDREW W.K.!
KING BROTHERS!
25 SUAVES!
Quintron!
Temple of Bon Matin!
Pterodactyls!
Incapacitants!
COUCH!
Mr. Velocity Hopkins!
Galen!